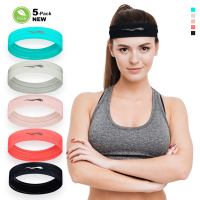 Women's workout headbands sweatbands for Sports Fitness. Width: 1.58in 5-Pack
$14.99
Super comfortable and stays in place. I was afraid after taking them out of the package that they would be too loose with a high intensity workout but they stay put and keep my hair out of my face. Cute colors too!
These actually work! I have straight, smooth, thick hair that falls out of ponytails no matter what I do. I've tried so many headbands and they all fall off because my hair is so smooth. These stayed in place and kept my hair out of my face during an intense workout!
Got these for workout and hiking for me and my boyfriend. We both really loved them. Comfortable to wear, look nice and good price.
I use this when working outside. We live in the desert so it gets HOT. Very absorbent. No more sweat in my eyes.

Your cart is currently empty.